About Us
Nihow Real Estate Inc.

Mission Statement
" Be famous to clients for delivering exceptional service"
"Quality not quantity"


Jason is a local Resident for 40+ years in Bay Area, A full time Real Estate Broker License with Nihow Real Estate Inc. located In Fremont City
Jason Can speak English, Chinese, Taiwanese.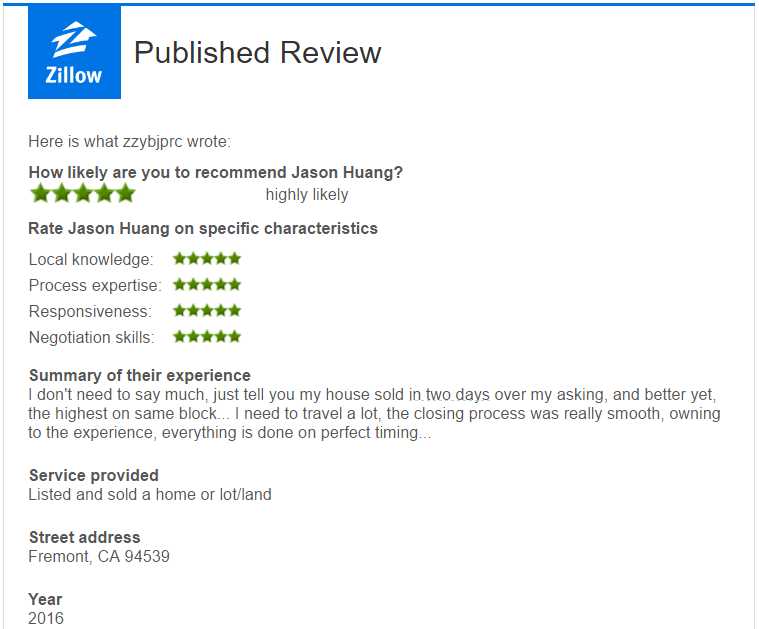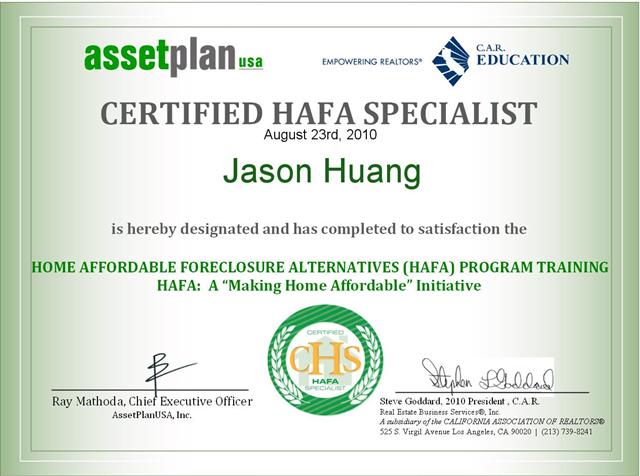 Certified HAFA Specialist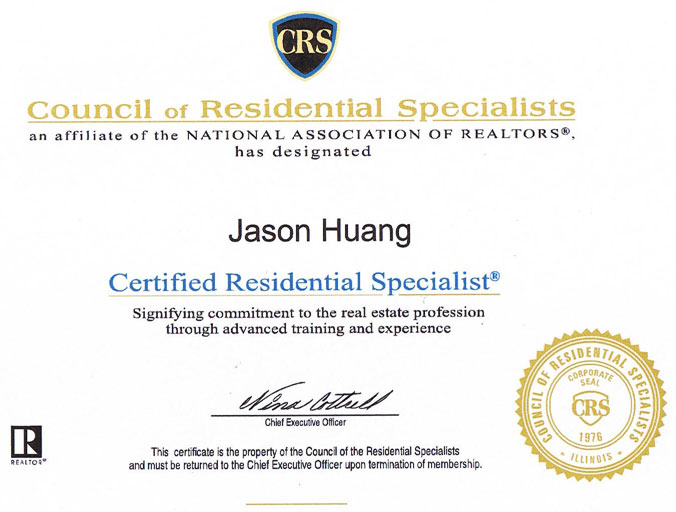 CRS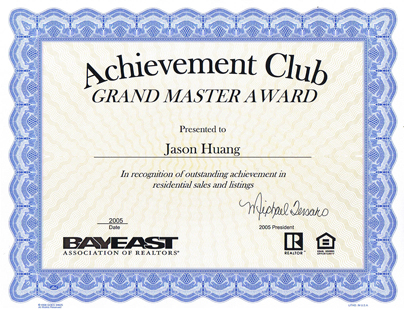 2005 Grand Master Award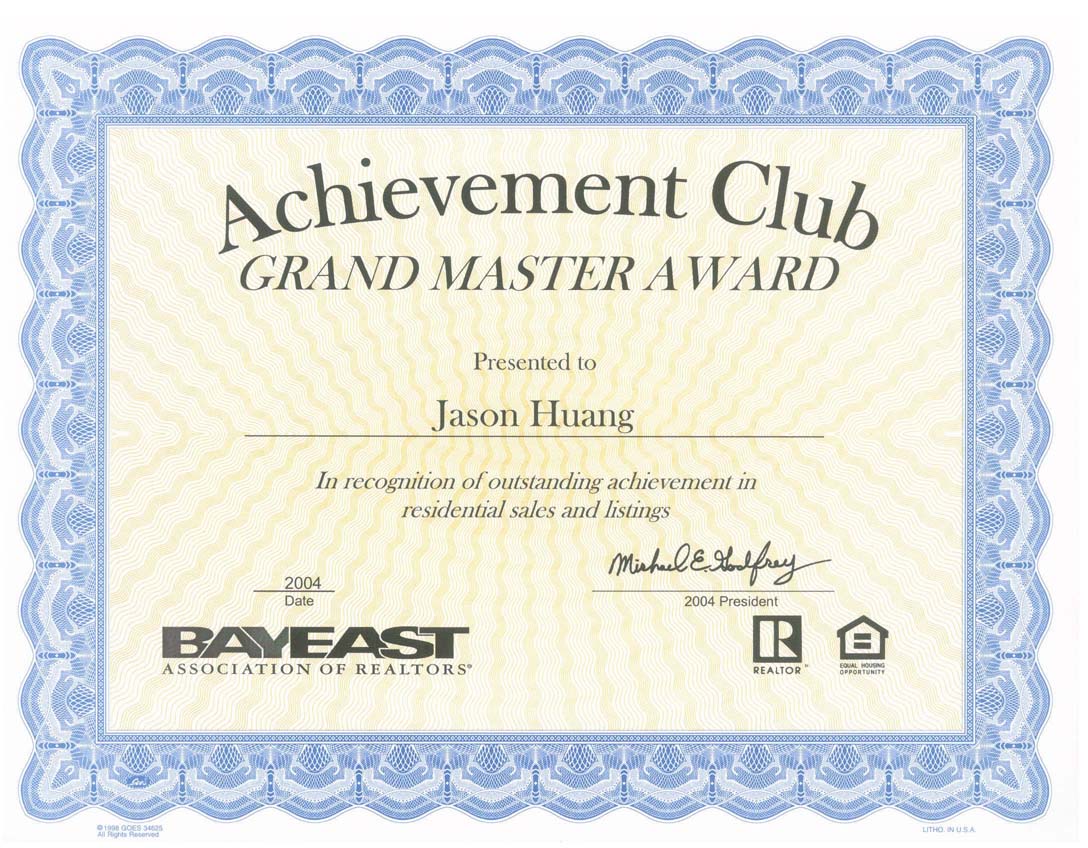 2004 GRAND MASTER AWARD
SRES CERTIFICATE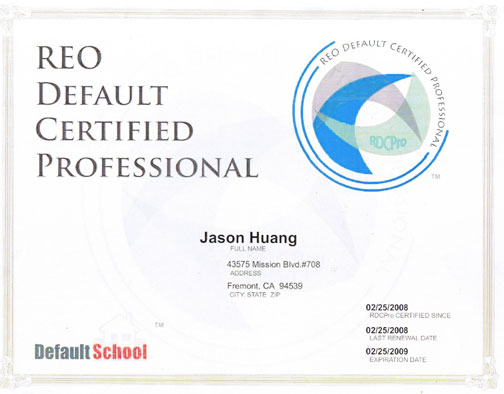 REO Default Certified Professional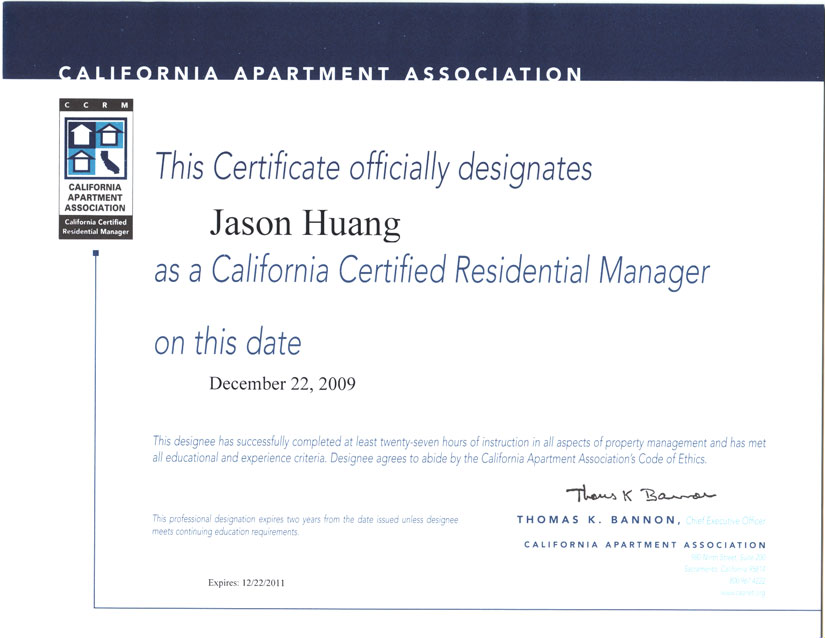 California Certified Residential Manager (California Apartment Association)
Client's Testimonial Video Clip in English Language, COE - June 10,2005
Seller of "Chemult Ter." in Fremont
=======================================================
Dec. 22,2007
I would like to share to all of you about my great experiences of the sale of my property located in Fremont with Jason Huang of Nihow Real Estate Inc. Jason is very dedicated, very efficient, very hard working, always available at all times from early morning to late night by phone, email or be at your place anytime you need him. Jason's quality of service is excellent. Jason will do everything in his power to make it happen through the end of the transaction. Jason has full of energy and doesn't seem to slow down in order satisfy his clients.
Jason helped and guided me from the start to the end of the transaction. I didn't expect Jason to be with me on the last few hours of the turn over of keys before the new owner moved in. Jason would like to make sure that everything's okay with no problems on both sides, as a buyer and as a seller. That is very impressive I should say.
I highly recommend Jason Huang of Nihow Real Estate Inc. to handle your transaction. I would do the same thing to recommend Jason Huang to my family, friends and acquaintances if they need to buy or sell their properties.
You are indeed a Grand Master in real estate and more power to you Jason.
Thank you very much,
Fely Reyes
---
I am extremely pleased to have Jason Huang as my agent. He is very efficient, dedicated, and he makes himself available at all time, be it early morning or late night.

Just to provide some examples: Within HOURS of my first call to Jason, he prepared detailed market analysis, hand it to my home, and start planning the whole process with my family. And within DAYS after placing my home on the market, we received many good offers and my home went sale pending. The overall progress is almost too fast for me to digest, and that's how good Jason is.

Finding a good agent saves us tons of trouble and headaches, and Jason is an agent that I'll recommend to anyone I know.

Lin

=======================================================

An email from a client - 12-26-2003

=======================================================

Hi Jason,

At the end of 2003, May you a merry Christmas and a wonderful new year 2004!

About two months ago, you help us buy our first home and we really appreciated your services.

We feel very lucky to meet you at a correct time. The services you provided are high quality, low cost, and effecient. You know what we want and what we can afford. Your coming finished our long way in searching and viewing the open homes. Under your guidance, at the first glance I liked our new house even before I walked in. It is a quite and lovely home.

The second thing you impressed on me is your hard work through the entire transaction. You provide your services to us no matter it was a early morning or it was a dark night. You are always the fastest one to answer my phone.

All in all, you are the agent we could recommend to our friends when they need to buy or sell a house.

Thanks lot,

Tong Li

=======================================================

12-26-2003

=======================================================

A resident in Bay Area Since 1982.

Jason believes that real estate investment is a major investment in clients' lives and

it should be a happy transaction. Therefore, Jason is doing the best to achieve these

goals for clients.

Jason's dream is to help you in meeting your real estate goals. Jason will do the best to

help you solve the headaches of real estate transactions.

Jason has many years of experiences in sales, marketing and Internet industries. This background helps Jason to have the best sale results for clients. Best Service is Jason's goals to achieve with every Jason's clients.

Jason's clients have written testimonials about Jason's services. Jason's

clients trust Jason and Jason's clients are still referring business to him.

Jason is willing to help you and serve you with good services.

Jason believes in good service, lifetime clients and good friends. Please e-mail or call Jason today and tell him about your real estate requirements, so Jason can better serve you.

Jason is your friend.

PROVEN CLIENT SATISFACTIONS

Jason is a full time Realtor and Jason has a proven fast track of very satisfied

clients. Please see the testimonials from clients on Jason's website.

Jason has sold the house within very short market time. His sellers and buyers

are very happy with his services. He loves the feelings of handing out the keys to his buyers with their happy faces.

MARKET KNOWLEDGE

Jason has lived in the Bay Area since 1982.

He watches the changes of real estate industry in Bay Area.

Jason uses his special customized marketing system to market clients' homes for sale.

Jason's clients love the way Jason explains to them about the strategies for putting

the house on the market in order to achieve the best value. As to buyers, Jason always informs his buyers about the geographic locations and the market values of the property before they purchase their dream homes.

Negotiation:

Jason believes that one of key ingredients of being successful in business is to have most updated educations. Jason is continually updating his knowledge on legal issues and real estate industry by continually updated education. He has achieved one of the prestigious professional designations: SRES (Seniors Real Estate Specialist).

Internet Technology:

Jason started using the Internet Since it was just in the IRC (only text) stage. Majoring in the computer science in the school, so Jason knows how to make modern technologies to its best usage.

Jason has combined the updated technologies and the real estate practices to assist Jason's sellers and buyers.

PROFESSIONAL DESIGNATIONS:

CRS - (Certified Residential Specialist)

=> The Certified Residential Specialist (CRS) is the highest Designation awarded to sales associates in the residential sales field. The CRS Designation recognizes professional accomplishments in both experience and education

CRB - (Certified Real Estate Brokerage Manager)

=> The Certified Real Estate Brokerage Manager (CRB) Designation is one of the oldest and most respected in the industry. It exemplifies the highest level of professional achievement and recognition in real estate brokerage management.

GRI – (Graduate, REALTOR® Institute)

=> GRI is recognized nationwide as the standard for real estate professionalism and knowledge


CHS - (Certified HAFA Specialist)

SRES - (Seniors Real Estate Specialist)

RDCPro - (REO Default Certified Professional)

MEMBERS:

California Association of Realtors (CAR)

National Association of Realtors (NAR)

Bay East Association of Realtors (BEAR)

Council of Real Estate Brokerage Managers (CRB)

Council of Residential Specialists (CRS)

Seniors Real Estate Specialists (SRES)

Graduate Realtor Institute (GRI)

BayEast MLS Member

REO Default Certified Professional

California Certified Residential Manager (CCRM)

CENTURION® PRODUCER AWARD WINNER

BAYEAST GRAND MASTER AWARD WINNER

SCHOOLS:

Cupertino High School

De Anza College

San Francisco State University

LANGUAGES

English

Mandarin

Chinese

Taiwanese

Call Jason Now to sell or buy your houses.

1-510-755-6236

=> Seniors Real Estate Specialists® are REALTORS® qualified to address the needs of home buyers age 50-plus. The SRES® Council awards the SRES® Designation to those members who have successfully completed its education program. <=