What our clients are saying...

Century 21 Centurion Producer Award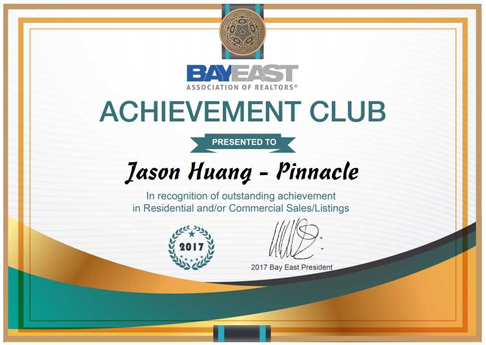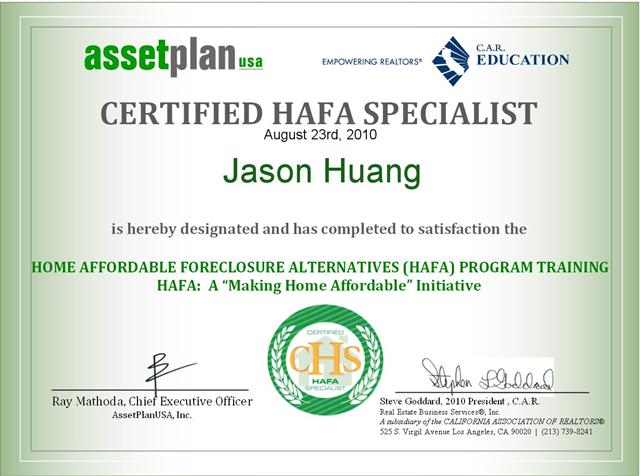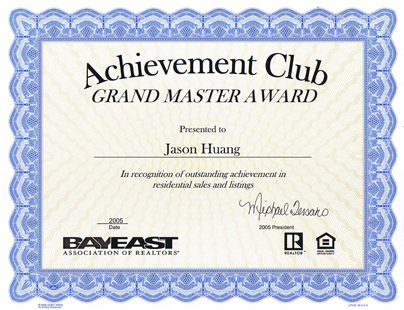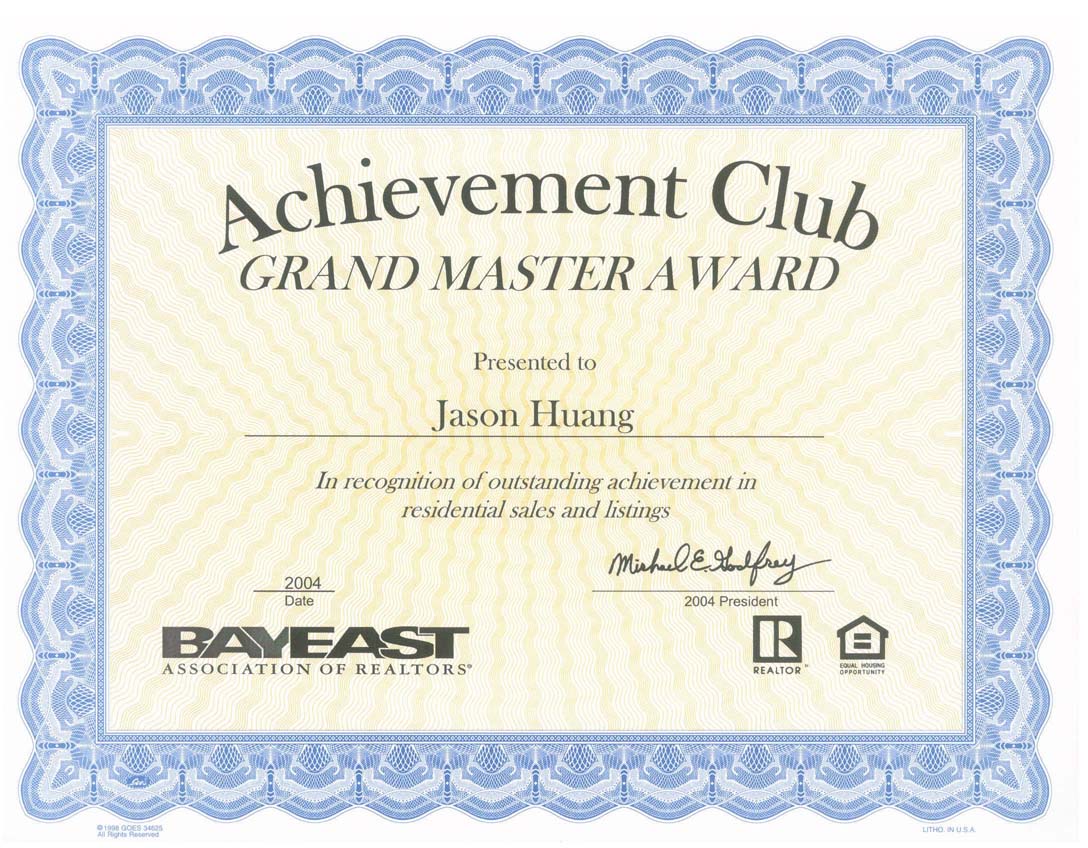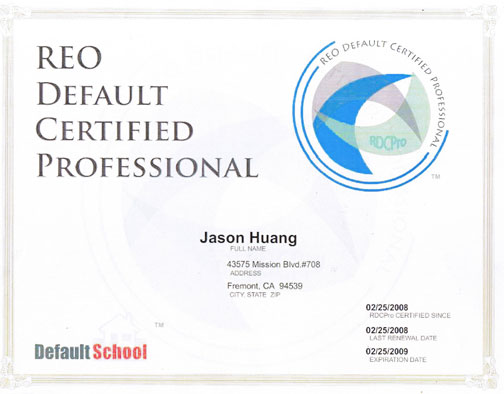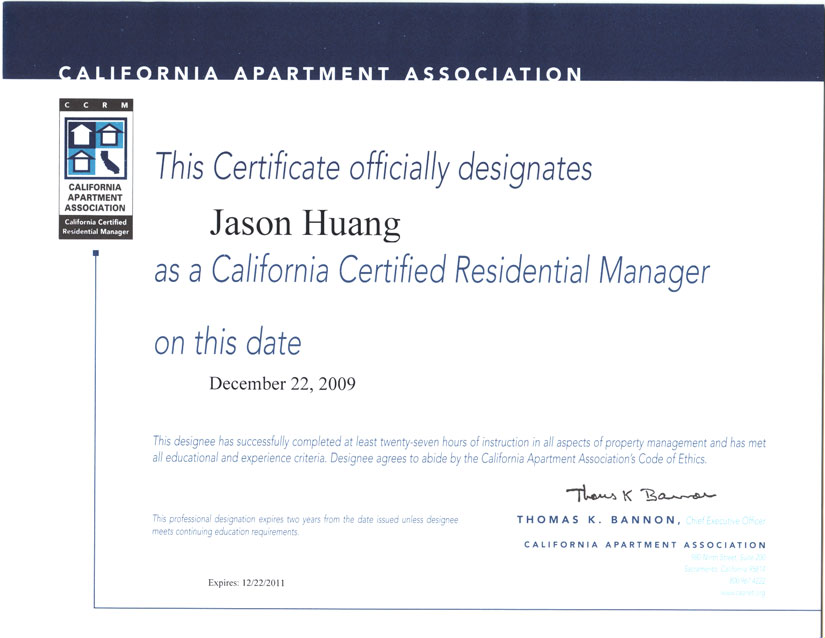 Part 1
Video Clip In Chinese Language

Part 2 Video Clip In Chinese Language
---
Client's Testimonial Video Clip in English Language
Buyer
---
Client's Testimonial Video Clip in English Language,
Seller of "Chemult Cmn." in Fremont
---
Client's Testimonial Video Clips in Chinese Language


Part 1

Part 2

Part 3
---
---
---
As a first time home-buyer, I am very grateful for the honor of working
with Jason Huang. I usually do not write any reviews, but I received such
exception service from Jason that I was compelled to share my experience.

I had been in the market for a home for eight months, I originally started
out looking in the East Bay and had asked Jason for recommendations. He
never failed to provide many updates on homes, walk me through numerous
potential homes, and accommodate my busy schedule. As time passed and I hadnot found anything that I liked in the East Bay, I began searching for homes in the South Bay--an hour drive each way for Jason. I eventually came across a home, through Jason's website, that had gone on the market that day. I gave Jason a call expressing my deep interest, and he met me there that night! He drove through 101 during traffic hour to meet me on a Monday night! I have yet to meet any realtor that provides such "on-call" service.

Jason always gives good advice, there were times when I wanted to put in
an offer on homes with problems I thought I could "fix." He advised me
against making poor purchase judgments based on his own expertiese; he was not afraid to turn down a potential sale for the safety and benefit of his
buyer.
During the closing process, he also served as my advisor--he was
completely up to speed on what the mortgage agent was doing and was very
pro-active in dealing with the closing company to ensure that escrow closed
in a timely manner (something that was not in his duties). Even when writing
the purchase contract he was very thorough and was able to have the seller
pay for most of the closing costs as well as home insurance for the first
year.

I could not have asked for a more patient, knowledgeable, organized, and
amazing realtor. I have asked him questions about my home even after the
sale and I have always received very prompt responses. I thoroughly
recommend Jason for his exceptional service.
Angie in S.F.
---
I am extremely pleased to have Jason Huang as my agent. He is very efficient, dedicated, and he makes himself available at all time, be it early morning or late night.
Just to provide some examples: Within HOURS of my first call to Jason, he prepared detailed market analysis, hand it to my home, and start planning the whole process with my family. And within DAYS after placing my home on the market, we received many good offers and my home went sale pending. The overall progress is almost too fast for me to digest, and that's how good Jason is.
Finding a good agent saves us tons of trouble and headaches, and Jason is an agent that I'll recommend to anyone I know.
C.C. Lin
---
Jason has been our agent for the past 6 months, and I highly value his insight and opinions on every single property we have encountered. While the belief that it is important to find agents that specialize in the area you want to buy is valid, I think it is more important to have an agent who honestly has your best interest in mind and never pushes you to do anything. Jason bears such characteristics. Jason may "specialize" in the Fremont area, but his several years of experience as a Realtor lends serve him well in his assessment of practically any property. Needless to say, I recommend Jason to be your Real Estate agent.
Daniel J.
---
Jason Huang is a dedicated, informed, smart and personable realtor. He has been helping us search for a house for several months now and I've been very happy with his assistance. He is very on-time, has the paperwork and research together, always has the inside scoop on the market, the area. He provides valuable honest opinions and ensures that we are making the right choices and considering all the factors when we look at the houses. He is also very good with negotiations. He is not pushy, he is patient and dedicated. I definitely recommend Jason as a realtor, especially if you are searching in the Fremont area.
Susan L.
---
We are very fortunate to have Jason as our real estate agent for selling our condo.

We felt he was very confident and dependable when we first met.

He used his professional experience and strategies to help us selling our condo so quickly at a good price even in current market condition.

He was honest, informative and knowledgeable through out the whole process.

Jason has an established network of handymen & service providers.
Jason was so trustworthy that we took his advises without hesitate.

This saved us tons of trouble and headaches.

Jason always put his client's interests first. And he always makes sure that everything is okay for both buyer and seller sides.
We highly recommend Jason Huang.

He is the best Real Estate Broker we've ever met.
---
Jason,
Thanks for the pictures and movie.
As you know, right now I am visiting my dad and sister in Toronto. I told my sister and her friends about my new house in Fremont. Everybody is very happy for me after I show them the house with the pictures and movie you created for the house. My sister asked me that there are so many real estate agent, why did I choose you. Well, to me it's was obvious for the follow reasons:
1. Your service started before we even met. Through email communication, you send us many information including Fremont maps and Fremont school rankings. You showed us city of Fremont web site and all the neighborhoods of Fremont. These info help us understand the real estate market in Fremont while we are still in Dallas Texas.
2. Once I arrived in Fremont, you devote your time to me almost everyday even when you are sick. You showed so many house from Niles to Warm Spring, from new house to old house, from the best school district to the bottom one, from 1 story house to 2 story house.
3. You organize my daily house haunting trip with your GPS navigation system so efficiently that no time was wasted on driving back and forth. For the houses that I was interested in, you took digital pictures and 360 degree movies. I received email from you with listing info, pictures, and movies on the same day so that I can email them to my wife in Dallas. We revisited many houses that I was interested in.
4. When I finally narrowed down to one house, my wife flew in from Dallas during a weekend. You took us to see not only "the house" but also representative houses in different neighborhood of Fremont. This provided my wife with a very good perspective regarding the house we are interested in.
5. Because we were back in Dallas when the seller accepted our offer, you spent so much time scanning all the required documents and email them to me for us to sign. You met my friend at the house for the final walk through. You even visited my new neighbors and asked them to keep an eye on the house.
Thank you once again for all your help. Jason, this has been a very positive experience for us. Therefore, I will highly recommend you to anyone I know.
Wen
---
Click here to see the letters in chinese language
---
I would like to share to all of you about my great experiences of the sale of my property located in Fremont with Jason Huang of Nihow Real Estate Inc. Jason is very dedicated, very efficient, very hard working, always available at all times from early morning to late night by phone, email or be at your place anytime you need him. Jason's quality of service is excellent. Jason will do everything in his power to make it happen through the end of the transaction. Jason has full of energy and doesn't seem to slow down in order satisfy his clients.
Jason helped and guided me from the start to the end of the transaction. I didn't expect Jason to be with me on the last few hours of the turn over of keys before the new owner moved in. Jason would like to make sure that everything's okay with no problems on both sides, as a buyer and as a seller. That is very impressive I should say.
I highly recommend Jason Huang of Nihow Real Estate Inc. to handle your transaction. I would do the same thing to recommend Jason Huang to my family, friends and acquaintances if they need to buy or sell their properties.
You are indeed a Grand Master in real estate and more power to you Jason.
Thank you very much,
Fely Reyes
---
Hi Jason,
Just want to say thanks to you, for your great help in selling our house. I have been very busy recently, but everything was going smoothly even though we are not in US during the whole selling.
Regards,
- Hongyu
---
Ivonne and I would like to thank you for selling our condo so quickly.
With our relocation to Canada, you have been making this whole process very efficient and in timely manner.
Your speedy response and electronic knowledge really impressed us the most among any other great services.
It has been a great pleasure working with you and wish you the best on your success.
Valentino Tjia and Ivonne Kho
---
Dear Jason,
I wanted to thank you for selling our home quickly and at fair price considering the current market trend. Your arduous work and perseverance resulted in a win-win situation for the buyer and us. The many open house paid off! You were also very helpful explaining the various stages in selling our property.
I recommend your services to others and will, if possible, use your services in the future.
Thank you again.
Regards,
Frederic
---
---
We're happy to have Jason as our listing agent for our single family home in Fremont.

With his hard and smart work and recommendations, we were able to sell our house soon even when market was slow. He conducted open house during holidays and hot weather (over 100 degrees). He guided us through each single step.
Jason treats his clients' needs as highest priority. He uses his professional experience and strategies to help his buyers and sellers to achieve their goals efficiently.
Please let Jason take your worry and be surprised by the wonderful result.
Regards,
Michelle Fang
---
Jason is our listing agent for our single family home in Milpitas. With his comprehensive service we had the deal closed in 5 days at higher selling price even when the market was very slow.
Jason is a cheerful person to deal with. He has an established network of agents, handyman & service providers. He is a responsive, considerate & result-oriented person. Jason has been very proactive for us. Any request we had he carried out & followed through right away. He always thinks & acts for our interests. He also performed great negotiations with the buyer. He got us the best contract term – "as is". Save us lots of expenses.
Based on our great experience we strongly recommend Jason Huang to all our friends. We believe that he is one of the very best choice of realtors in the bay area.
Sincerely,
J. & K. Liu
---
---
We are fortunate to have Jason as our agent and be in the same development as him, plus having him on the HOA board which made our transaction even easier. He provided a wonderful service that we would recommend him to our friends and family.
Jason is professional, friendly, efficient, hard working, honest, knowledgeable and very experienced in what he does. On the day that we listed our condo, he put our condo on MLS listings with virtual tour and photos. He also goes out of his way to get things done even if it's 10:00 at night. He was informative and helpful through out the whole process. You can depend on his opinion base on his experience and knowledge in the real estate market, He is a great agent.
We would definitely use Jason again for any future real estate needs.

Sincerely,
S. Yu
---

Admittedly, Mr. Jason Huang is the best Real Estate Broker I ever met in
California; he has unparalleled skills in his professional knowledge and
modest personality to handle the relationship between buyers and seller.
Moreover, Mr. Huang is a friendly and evenhanded person, he is
aggressive and efficient on every undertaking and accommodate with best
exertion for his customers. This is the reason I consigned Mr. Huang to
be my exclusive broker and list my house on the market. Concededly, I
made the right decision; he sold my house in a week smoothly.

I am highly recommending Mr. Jason Huang to everyone, and I have fully confidence that he will satisfy all the buyers and sellers.
---
---
---
---
Our agent Jason Huang, helped us to purchase a beautiful home of our choice. We came to know about Jason Huang, through our friend. The very first talk with Jason, gave us lot of hope and confidence in becoming home owners. He patiently worked with us, looking into all our specifications of the house and their needs. Whenever a house came up, he thoroughly studied its neighborhood, security and the ease of communication, which was very helpful in finding a good home with excellent community. Each time we went to an open house, he came with the same enthusiasm and energy. Most of all he acquires the talent, to talk for his clients, to the seller's agent. Even after buying the house, he had given us many tips on home improvement and finding suitable handy men. Jason, is very sincere and hard working. We would highly recommend Jason, for his skills and patience.
Regards
Balaji & Gomathy
---
We are very lucky and happy to have you as our house sales agent. Not only you had sold our house fast, but also at very good price. Beyond our expectation, you sold our house located in Fremont within a week since we left.
You helped us in very details in selling the house that's why we are really thankful and appreciated. We like it that you let us aware of all of the details. I think that your honest services and tactful marketing strategy are some of the reasons to attract your clients. You have saved us lots of time and money. Thank you.
We wish you have very successful and wonderful business now and in the future.
Sincerely yours,
L. Liu
---
We feel really lucky to have Jason Huang as our agent. We begin our housing hunting at end of 2004. At that time it was a hot seller's market. We tried several offers and all lost in the bidding war. We get very frustrated and thought we may never able to buy a right house with reasonable price. Thanks for Jason's help we finally be able to get the one we really like. Moreover, Jason helped us negotiated a better price than expected.
Jason works energetically and efficiently. When we need him to show a house, he is always available and never mind how faraway it is. During the closing process, we had some unexpected problem. Luckily, we had Jason as our agent and he works diligently to help us solve the problem quickly.
At the beginning we thought it would be hard to get a good buyer's agent since it's the seller's who pays the commission. In the process, he really shows his integrity. We are very happy with Jason's service.
Next time when we ready to trade up, we definitely want to have Jason as our agent again.
Kan from San Jose
---
I had thought about selling my condo not too long ago but i wasn't sure about it. As I was looking at condos for sale in the area I ran into Jason. His confidence reassured me that our place could be sold for the price we wanted. Within two weeks a smooth, hassle free transaction had taken place for over our asking price. I am so pleased with Jason's dedication that he will be helping us with our new place.
We recently had the opportunity to work with Jason Huang with the sale of our house and the purchasing of our new home. We had decided to use his services because another homeowner in our neighborhood was using him to sell their home. We knew that our house would be difficult to sell because it was next to the freeway, and our thoughts were that if the prospective buyers liked the neighborhood but didn't really like the other house, Jason could show them our house.
From the beginning to the end of the sale of our home, Jason was always there for us. It didn't matter what time of day it was, he was always willing to meet with us and always kept us informed regarding the sale. His main concern was that we were happy and we always came first. Because of this, we looked to him for guidance and knew that we could trust him.
Because Jason did such an excellent job in the selling of our home, and we were very satisfied with his services, we decided to use him in the purchasing of our new home. What we had all thought would be an easier process, was actually more difficult than the sale of our house. Again, Jason was always there for us. He made sure that we were happy with everything and if not, he would make sure that the sellers of the house corrected it, he never backed down until we were happy. During this whole process, Jason always made sure that it was what we wanted. We always came first.
When Jason tells you "Don't Worry", you can believe him. He will take care of everything. We are so grateful to him for what he has done for us. We highly recommend using his services as a realtor. He is someone you can trust!
Dan & Stephanie Tsurumoto
---
In our process of interviewing real estate agents to list our property @ Liberty Common we wanted to go with someone that is energetic and techsavvy.
Jason Huang is that candidate!! During the days leading to our
first and only Open House Jason didn't disappoint us. He set up a 'Virtual
Tour " of our unit and have property disclosure documents ready for
prospective buyers . Throughout this process, we became more appreciative of Jason's openness, honesty and hard working attitude. In summary, if you
looking for an agent that is willing to look out for your interest and ready
to sell your house "real fast" Jason is the one to call.
Regards,
Roger and Kristine Caothien
---
Jason helps my family to sell and buy our real property. He sold our house within 2 weeks by his professional and knowledgeable marketing skills. We got a good deal on selling the house. After looking for our dream house for one and half months, we are very excited about owning this new house. Jason's service is excellent. He has good personality and a sense of humor. We will do business with him again in the future. We recommend him to be your friend on helping you buy and sell your house.
Warm Springs, Fremont
---
Thank you very much for all the time and effort you put into finding my family the perfect home. You have helped my family tremendously by catering to our specific needs. You have been very honest with us, and we appreciate how you kept narrowing your search to find us the right house. The location of our house is great, and it is also the perfect size. Thank you so much for acting on your quick negotiation skills to help us get such fine house. Sealing the deal for our home within 24 hours really shows us your ability to negotiate. You have our trust in any future sales, and we would be more than happy to refer you to any of our friends who might be interested in buying or selling houses in the future.

Corrina Wu


---
About two months ago, you help us buy our first home and we really appreciated your services.
We feel very lucky to meet you at a correct time. The services you provided are high quality, low cost, and effecient. You know what we want and what we can afford. Your coming finished our long way in searching and viewing the open homes. Under your guidance, at the first glance I liked our new house even before I walked in. It is a quite and lovely home.
The second thing you impressed on me is your hard work through the entire transaction. You provide your services to us no matter it was a early morning or it was a dark night. You are always the fastest one to answer my phone.
All in all, you are the agent we could recommend to our friends when they need to buy or sell a house.
Thanks you for helping us bought our first home in Ardenwood. We really appreciate your hard working and quick response during the whole paper work process. Before we met you, we don't think there are true buyer's agents, as sellers pay agents not us. However, you changed us. We fell very well informed and represented. What impressed us the most was your negotiation skill, which played an important role in helping us get the house and still within our budget.
All in all, we had a very pleasant buying experience with you and we highly recommend your service!
---
I really appreciate the honesty and the unselfish effort you showed in making my effort unnecessary. In addition, I appreciated your jeeping me informed of every step in the sale of my condo and looking out for my interest all the time. Particularly when you got me reimbursed for the motel stay i endured when the escrow closing was delayed.
All in all I was very pleased with the way you pursued the sale of my condo and the accurate recommendations you made.
Ritsuo
---
Jason is a hard working Realtor. Our condo came out on Thursday, he did open house on Fri., Sat & Sun. The condo pending on

Monday!

One thing that impress us about him is also very thorough & informative. Jason does everything

VERY FAST.

We highly recommend Jason to our friends. In fact, in the future, we'd definitely use Jason again.
Keep up the good work Jason
Jennifer Lam & Arthur Lam
E. Warren in Fremont City.
---
His efficiency and responsive manner indeed impress us. We Are

REALTORS

TOO, and we listed our condo in Fremont with Jason because of his reputation. We highly recommend Jason to our friends. Our condo was sold timely & closed very smoothly. Thanks Jason!!!

Hackamore, in Fremont City

---

Select a Right Agent does make a Big Difference

..My townhouse was on market for over 133 days and not a single offer until we changed to "Jason" by following my friend's referral. Jason got our townhouse sold quickly.. We are very happy with Jason' service.. (and we have the same last name) .. Thank You !

J. Huang

Deerfield Ter. in Fremont city



---
We can not believe it !! Jason got it pending in 2 days. We're very happy. Our condo was with other agent for 58 days on the market and we are not satisfied with that agent's service. We are glad to find Jason. He is very helpful and offers quick services. We recommend him for buying or selling your homes. Jason, Thank You Very Much

F. Wang

Benns Ter. In Fremont City



---
Best Service !!! Sold Over Asking Price in 2 Days

.. I can not believe it, Jason sold my condo over asking price in 2 days and that price is

$20,000

more than another same size unit just sold in the same complex. I lives in L.A. and I'm very satisfied with Jason's services...



Wilson




Shaniko Com. In Fremont City



---
Jason's EXCELLENT Services !!!

.. follow my friend's suggestion.. We listed our house with Jason and Jason did a great job to help us. We were very worried about the market condition in October and we're very surprised to see it

sold over the asking price in 9 days.

Jason is the best !!!



A. Chen




Hackamore Ln. in Fremont City



---
Excellent Agent !!! Jason is the best !!!

Jason is very aggressive. He responds quickly and is very easy to work with. Jason understands exactly what I expect and is doing his part far beyond my expectations.




R. Hochscheid




Hackamore Ln. in Fremont City



---
Jason is the Best Agent !!!

We were worried about our house sale because there is a house for sale in our neighborhood for over 6 months. We're glad to have Jason as our realtor. He sold our house within one month and he took care a lot of things for us since we're in other country. His service is excellent!!




J. Shih




Japala Pl. in Fremont City



---
Jason Did It !!!!!

The market condition was not good in Sept. 2002, but Jason sold our house within 15 days !!! I don't know how he did it but HE DID IT!!! He's a good agent. Excellent !




Danny




Lake Mead Ct. in Fremont City



---
Jason did a good job !

Jason did a good job for selling our house. Even he's in fremont, he still can sell houses in other Cities. An Excellent Agent. We recommend him to you!!!




L. Hwang




Limewood Dr. in North Valley, San Jose



---
Jason did an excellent to find us a house !!!

We have searched for a house for 1 year by our own. After we contacted Jason,

Jason helped us find a house within 3 days.

He understood what we wanted and selected the right home for us. This saved us lots of time and energy. When you choose the right realtor, you have the right result. Jason is good. Thank You Very Much


F. Teng

Cherry Ln. in Fremont City



---
We love it when we see it at the first time !!!

We're the first time home buyers.

Jason found our dream home in 1 day

. He's fast and excellent. My wife walked into the house within 3 steps and decided buy it right away and it was a first home he show us!!! Jason knows what customers want, and find the right one for them. I highly recommend Jason to you ~



Mr. Liu


Stevenson Blvd. in Fremont City
---